The Fascinating Future Of Motoring
December 8th, 2014
&nbsp | Share: &nbsp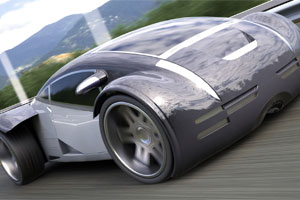 There have been a number of major developments in the motoring industry over the last few years. Some of the leading motor manufacturers have produced advanced electric and autonomous vehicles.
Various devices have been developed for enhanced road safety and efficiency. And the engineering team at Arup have created a brand new report signalling the types of changes which are to be expected in the not-so-distant future. Modern day drivers are encouraged to strap in and hold on tight as we're in for a truly exciting ride!
Intelligent Pedestrian Crossings
Those of you who make the daily commute into London may already be aware of the existence of intelligent pedestrian crossings. These advanced devices are designed to take account of the number of people who are crossing the road at any one time.
The green light remains active for a specific amount of time, depending upon the pedestrian gathering. The lights are also fitted with cameras and 'call cancel' mechanisms which activate if people walk away or cross particularly quickly. However, there are some concerns regarding the sensitivity of the pedestrian sensors.
But whatever the wait this dancing figure is bound to put a smile on your face…
Smart & Dynamic Highways
Customers of Autobulbs Direct will undoubtedly understand the multiple benefits of LED lighting. However, road safety experts and engineers in Holland are trialling energy efficient LED's to illuminate the highways for improved visibility. There is a possibility that these lights will replace the traditional cats eyes on roads in the UK. However, there are some concerns regarding the costs and possible distraction caused by LED road lights.
Retractable Tyre Studs
Ice is a major hazard for motorists throughout the world. However, it's not surprising that a leading Nordic tyre manufacture has developed retractable road studs in the aim of minimising the risk of crashes. The studs can be activated for increased grip and skid resistance on icy roads. They are likely to feature as part of the modern vehicle safety package. Unfortunately young road users may be put off by the high costs of fitting the tyre studs to their trusty run-arounds.
Driverless Car Interiors
There have been numerous suggestions regarding the widespread use of driverless vehicles as developed by Google. One of the leading Swiss manufacturers has come up with the idea of integrating swivelling chairs and different means of in-car entertainment. However, it remains to be seen whether people will have complete faith in the concept of vehicle autonomy but this couple seem very happy with it…
Synchronised Traffic Signals
There have been numerous attempts to reduce the levels of congestion and pollution in the world's largest cities during recent years. However, the American transport authorities have had considerable success with the integration of synchronised traffic lights in Los Angeles. They are adjusted and monitored via a central control system. So far there has been a notable decrease in the amount of accidents and emissions at peak times. However, doubts have been raised about the long-term success of this method.
Self Healing Concrete Services
Unsightly and hazardous potholes have traditionally been a major issue for the motoring community. However, academic researchers around the world are developing a self-repairing concrete which is designed to bind any emerging cracks in the road surface. The benefits of this healing agent include a substantial reduction in road reparation costs and significantly enhanced road safety. However, it will still be necessary to remove thousands of existing potholes throughout the UK.
This list is compiled from the Future of Transport a report released by Arup.
Posted by: ABD.co.uk
Related Articles
No related posts.
Featured products
it does not exist