HID Kit Colour Temperatures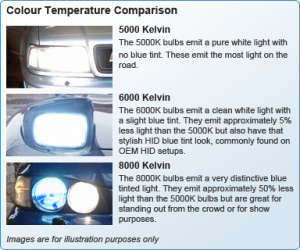 HID conversion kits come in a wider array of colour choices.
These kits are much more popular amongst show cars which means there is more of a demand for different colours.
The colours available for HID conversion kits are 5000K, 5500K, 6000K, 6500K and 8000K.
5000K is a nice, bright and white light and 8000K is a blue light output.
Keep in mind that if you go higher up the Kelvin Scale, your bulbs will produce less light.
Interactive Kelvin Colour Chart
Whilst it is difficult to depict the true colour of each Kelvin, we've built a tool to help you see the difference between two colour options.
Remember, this is for demonstration purposes only and will look different to a real headlight bulb.
How Bright Are HID Conversion Kits?
HID conversion kits are very bright.
In fact, HID kits are currently the brightest aftermarket upgrade options on the market.
They can reach levels of brightness between 300% up to 450% brighter than standard OE Xenon bulbs.
The light output is all to do with the aftermarket ballast units that are connected to the bulbs.
To make it easier:
– A 35w ballast unit can reach up to 350% more light.
– A 55w ballast unit can reach up to 450% more light.
Issues When Fitting HID Kits
Nearly all aftermarket bulbs these days are labelled as plug-and-play.
The trouble is, sometimes there are things that are out of anyone's control.
Your headlight might not be deep enough, CANBus errors might occur or you might need a bulb holder so the upgrade bulbs will fit.
This section will cover off the most frequent issues when upgrading to HID:
– The Bulb Doesn't Fit
Usually this means you've ordered the wrong bulb. It could be the data for your vehicle was wrong in our car bulb finder or you've ordered the wrong bulb by mistake. This can easily be rectified by following the Car Bulb Guide.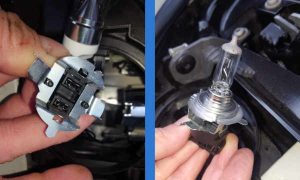 – The Bulb Fits But Is Loose In The Bulb Holder
Here you will need to change the bulb holder or fit an adapter to the bulb so it fits in correctly. simply take a picture of your existing bulb holders and email it to us. We will then be able to identify what you need and get one sent out to you as soon as possible.
– One HID Bulb Doesn't Work / Flickers
Here you will need to check if it's the bulb or the ballast that is faulty. Simply swap the bulbs or the ballasts from drivers' side to passengers' side to see if the fault follows. Once you've identified what isn't working, contact us to get the faulty item replaced.
Sometimes a CANBus error may still occur on some vehicles where the system will turn off your headlights after running a check.
This is often resolved by installing a single beam relay harness.
Related Information
HID Conversion Kits
Author: Dean Michael