This page identifies and explains everything you need to know about Dipped Beam Headlights on your vehicle.
What Are Dipped Beam Headlights?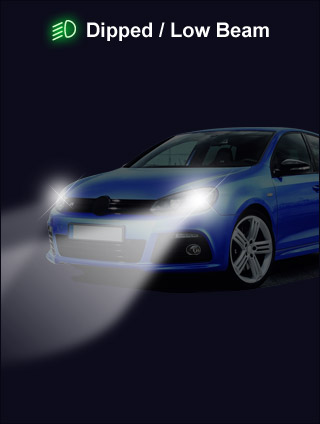 Dipped beam headlights are located at the front of the vehicle and are designed for increased visibility when driving at night time.
They are located next to your main beam headlights and sidelights and the dipped beam bulbs can be Halogen, LED or OE Xenon – depending on your vehicle.
Dipped beam bulbs are pointed down towards the road to prevent other road users from being dazzled.
Dipped beam is also commonly known as low beam throughout the UK.
When To Use Your Dipped Beams
The highway code states that you must "use dipped headlights, or dim-dip if fitted, at night in built-up areas and in dull daytime weather, to ensure that you can be seen".
You should always activate your dipped beam when visibility is low, it's darker than normal, it's raining heavily or foggy. Some of these aren't required by law but commonsense should prevail which will prevent you from being in an accident. If you're more visible on the road then there is less chance of someone not seeing you, making it safer for everyone.
Your dipped beam headlights will have a lower light output than your main beam headlights to prevent "dazzling" other drivers.
What Type Of Dipped Beam Headlight Bulbs Are Available?
This completely depends on what bulb application your vehicle was designed for.
You should check out our car bulb finder to see what dipped beam bulbs fit your car. We previously wrote a detailed car bulb guide a while ago which will show you exactly how to find the best bulbs for your vehicle.
Related Information
Dipped Beam