This page identifies and explains everything you need to know about Main Beam Headlights on your vehicle.
What Are Main Beam Headlights?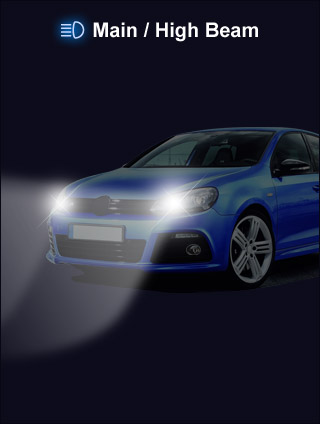 Main beam headlights are an optional feature built into the headlights at the front of your vehicle. They are designed to increase the brightness ahead of the vehicle which helps to improve the vision the driver.
The main beam headlight will either be a separate bulb from your dipped beam or it will be the same bulb.
If your main beam and dipped beam are the same bulb, you bulb would either be a dual filament headlight bulb or there is usually a mechanism within the headlights that will allow more light to pass through the headlights once the main beam option is activated. Typically, this would be a shutter-system where once the driver puts the headlights to main beam, the shutter will rise, meaning the bulbs full beam of light will be showing.
Other Names For A Main Beam
There are other variations of names for the main beam of a car and it can depend on the country you're in.
Here are a few variations that we have come across over the years (let us know your version in the comments):
Flashers
Full Beam
High Beam
Flickers
Blinders
What Are Main Beam Headlights For?
The main purpose of your full beam is to give the driver more visibility on the road. The main beam can be activated temporarily or for a prolonged period of time depending on the choice of the driver and the legalities of using it on the road.
When To Use Your Main Beams
You should use your main beams when visibility is low and lighting on the road is very limited.
You should never turn on your main beam if:
You are driving behind a vehicle
Other vehicles are on the other side of the road
Driving on left hand bends
If your main beams will cause other road users, cyclists or pedestrians to be dazzled then you will need to switch back to dipped beam.
Failure to do so may cause you to be fined.
What Type Of Main Beam Headlight Bulbs Are Available?
The list is quite extensive when seeing what headlight bulbs are available and it also depends on what bulb your main beam headlight takes.
There are a few ways to check what your main beam bulbs are including: checking the vehicle manual, taking out the old bulb and reading the markings or using our handy car bulb finder.
You should know that you can also upgrade your main beam headlight bulbs.  There are many options available for this including Upgraded Halogen Bulbs, LED Bulbs or HID Conversion Kits. These upgrades will massively improve performance, vision and style for your main beams.
Related Information
Main Beam