Everything You Need To Know About Windscreen Wipers
This guide is an in-depth explanation into wiper blades and should hopefully resolve any questions you have about them.
Here, we're going to cover off on many frequently asked questions that we receive from our customers including the following:
Finding The Right Blades For Your Vehicle
When your wipers are worn, brittle and in need of replacing – trying to find the correct replacement can sometimes be a daunting task.
A year or two may have passed and you've completely forgotten what brand, size or fitting you need.
Luckily, we have one of the leading wiper bulb finders in the UK which is simple to use and can help you find the right wiper blades for your vehicle in a matter of seconds.
---
Wiper Blade Finder
Just enter your registration number or the make, model and year of your vehicle to find the right blades for you.
You will then land onto the next page where you will need to select the "Wiper Blades" tab.
Our finder tool will then present you with multiple options to choose from but will tell you exactly what blade you need for each application. For example, the data we have for your vehicle might suggest that your drivers' side is 24″ and your passengers' side is 17″.
Make sure to choose the right wiper blades by size and that they are the closest size as possible to your original wiper blades to receive the maximum amount of clearance for when it rains.
---
Does Size Really Matter?
Size matters to a point, just as long as you are about 1 inch higher or lower than your current wiper blade size. If you buy wiper blades that are too big, they might overlap or touch which will cause them to break.
Some manufacturers will not produce certain wiper blade sizes simply due to the lack of demand from vehicle manufacturers.
For example, Bosch does not make 17″ wiper blades so buying a 16″ or 18″ blade is absolutely fine. The only difference will be half an inch on either side so the impact on the difference in size will be minimum.
---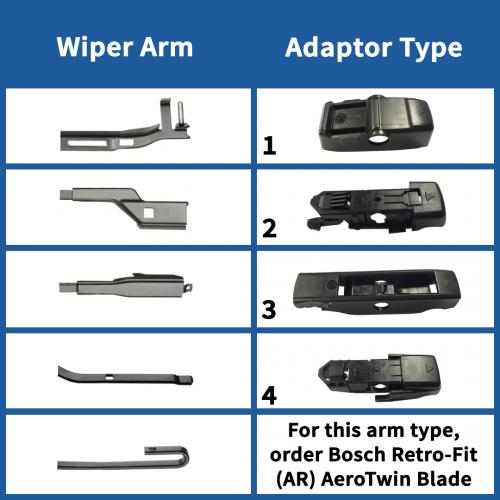 What Attachment/Fitting Will I Need?
This will completely depend on your wiper arms and how that connection fits into the blades.
To double check the correct fitting remove your existing wiper blade from the wiper arm and inspect how it connects.
Bosch provides a fantastic set that should cover nearly all of your wiper blade fittings. Anything that is branded as "Multi-Clip" will come with 4 adaptors meaning it can fit a wider variety of vehicles.
Simply place the adaptor you need onto the wiper blade arm and then connect the arm and blade together.
---
Choosing The Correct Rear Wiper Blade
Your rear wiper blade will be specific to your vehicle and sometimes choosing the right replacement can be difficult.
It's best to use our wiper blade finder or use your vehicle manual to see the what size wiper blade you will need.
If that information isn't available then try to remove the existing rear wiper blade, take a picture of it and then send it via email. One of our highly skilled members of the team will be able to assist you as quickly as possible.
Fitting wiper blades can be very straightforward if you have an eye for it.
Typically, the most difficult adaptor to fit is wiper blades with a hook extension as this tends to be the one that confuses people the most.
The remaining majority of wiper blade attachments simply "click" into place and can be removed by pinching the locking mechanisms surrounding the attachments.
We offer a service covering wiper blade fitting in Southampton so if you're in the area and need some help, just let us know.

Making Your Wiper Blades Last Longer
Wiper blades last an average of 1 – 2 years in the UK depending on the amount of usage they receive on your vehicle.
A few factors that can damage your blades, making them become brittle and in need of a replacement sooner are:
---
During heatwaves your windscreen wipers can often sit in direct sunlight for long periods of time causing them to breakdown much faster. In the winter, cold snaps can also cause the same amount of damage due to moisture expanding into ice.
When it's hot and you know you're not going anywhere for a while, try to park in the shade or use a windshield cover whenever possible.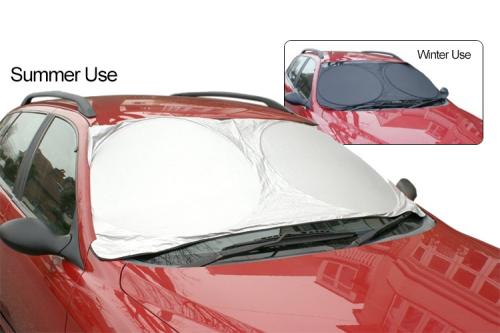 If your windscreen is frozen over with ice, wait for the ice to thaw and ensure there is no ice across the windshield before turning your wipers on.
A handy hack that prevents your wiper blades from freezing to your windscreen is to place a Frost & Sun Shield underneath the blades, resting the rubber on top. If heavy snow is forecast, it's best to place the blades under the blanket.
---
Tree Sap / Pollen & Contaminants
Parking under trees can be frustrating for vehicle owners when things like tree sap, seeds, bird droppings, falling leaves and dust start to settle on your windscreen. This can collect under the blades and cause damage to the rubber or silicone and turning them on will cause streaks or even more damage.
Before heading off on your journey, check for dirt or foreign objects like leaves, twigs or seeds around your blades and clean them off. Using a clean rag with vinegar will not only clean the blade but eliminate streaks. Pour excess vinegar on your windscreen and turn your wiper blades on for crystal clear vision.
If vinegar doesn't work, then try Lemon-aid Citrus Cleaner from Rocket Butter. It's formula is designed to remove dead bugs and grime while keeping it clean and smelling fresh (unlike the vinegar).
A great way to prevent debris landing on your windscreen is to cover your vehicle at night or before high winds.
Pollen and sap can also cause damage so it's best to wash this off with a mixture of water and vinegar (50/50), spray it on and wipe it off before using your wipers.
---
Sometimes, the best way to prevent damage is to prepare for issues beforehand.
Rain Rebel Hydro Seal from Rocket Butter is the ultimate way to prolong the lifespan of your windscreen wipers. Spray onto your windscreen, wipe with a microfibre cloth and rain water will begin to bead and rise (or fall) along your window. This product lets you use your blades less meaning the rubber lasts even longer.

How Long Should My Wiper Blades Last?
Typically, a good set of wiper blades last between 1 to 2 years depending on the usage.
If you're driving much more than the average 9 to 5 office worker then they're more likely to last between 6 to 12 months instead.
If your wipers break or corrode early then it could be from driving in the rain on a frequent basis, hot or cold spells or it could be dirt or grime causing damage.
Some road users suggest to use Silicone Wiper Blades however our tests have shown you're just as good to buy a £5 bottle of hydro seal to make them last just as long.

The Best Wiper Blade Brands
It's not fair for us to be biased on this subject. There is a wide range of manufacturers available such as Bosch, Iguana, Hella and we even stock our very own wiper blades here.
All we can say is that Bosch is by far our biggest and best seller. As a brand, they are trusted throughout the entire industry and vehicle owners know they can rely on them as a product.
If you're unsure about who to choose then try having a look around and comparing reviews when choosing wiper blades by brand.
---
Over To You!
We love getting feedback from our readers and we genuinely enjoy interacting with you all so let us know your thoughts and opinions in the comments below.
We want to know the following:
How long yours usually last
Your tips or tricks on keeping them clean
How you make your blades last longer
Your favourite branded wiper blades
Related Articles
Wiper Blades Guide
Author: Dean Michael